BATHROOM CABINETS BUFFALO
Bathroom cabinets are not only high-functional, but they also contribute to the design and appeal of the bathroom. When choosing cabinets for your bathroom, it is vital that you pick something that meets your practical needs, show your style, and blend well inside the room you have. Bathroom Cabinets Buffalo will guide you in selecting the perfect cabinet that matches you and your bathroom.
When you seek our assistance, we will initially ask you as to why do you want to replace your old cabinet or why do you need to get a new one. Is it for more storage room or decorative purposes? Knowing where you will use and what you are going to store in the bathroom cabinet will help you decide on the design.
If you already know your budget before shopping for a new one, the chances of narrowing down your options and finding a cabinet well-suited for you are bigger. When you have a specific budget in mind, it will be easy to distinguish which cabinets you have to select from. With affordable Bathroom Cabinets Buffalo, we are sure you will find one that suits your financial limit.
Measuring space is necessary to know the exact size of the cabinet to fit in your bathroom. We can help you get the measurement of your room, along with the door, window openings, and fixtures currently in place.
We can also assist you in designing Bathroom Layout And Design Buffalo. With the average size (18 inches to 48 inches wide) of bathroom cabinets in mind, it is necessary to have enough space for the height and width of the cabinet you pick. Plus, leave ample space to open many doors, from cabinet doors to entryway, to have the right allowance for a clear passage through the bathroom. When we scale a floor plan, these are the stages we go through: we make an outline of the bathroom measurements on a graph paper; we place markings on the windows, doors, and bath fixtures on the outline; we create to-scale templates for different bathroom cabinet sizes, and we present the outlines until you find the perfect cabinet size that will fit properly into the bathroom.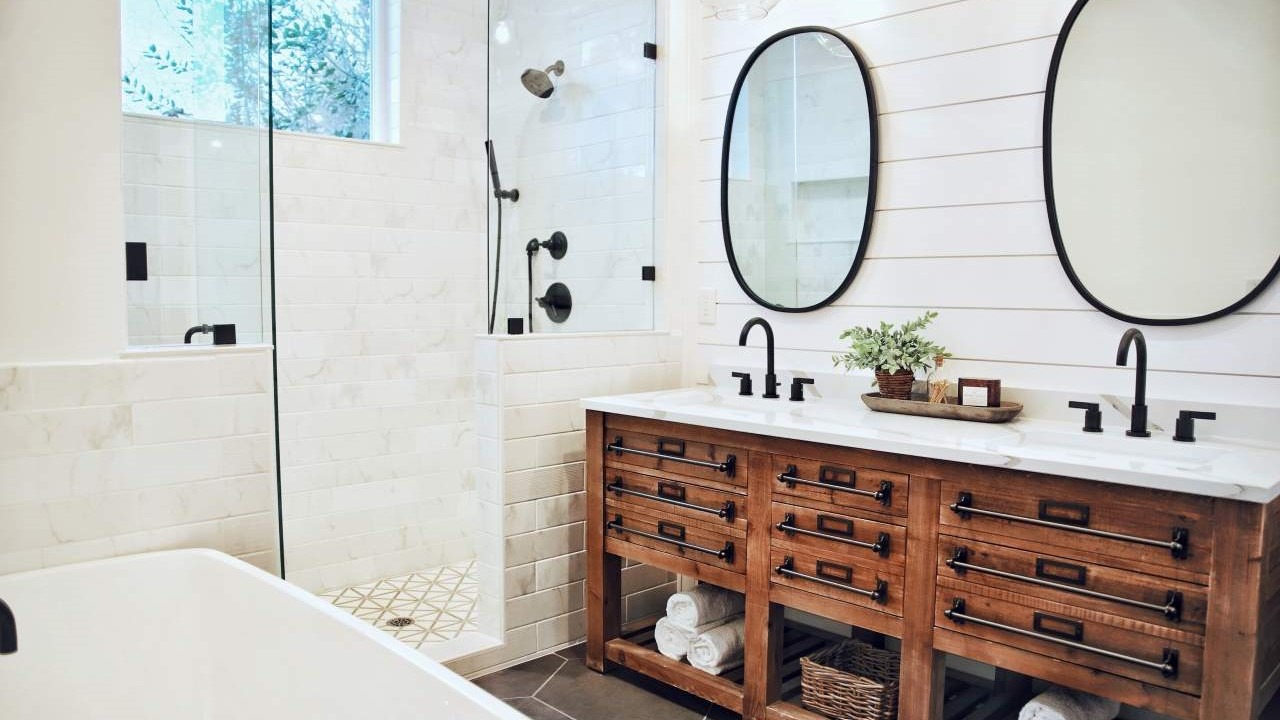 Types of Bathroom Cabinets
Base cabinets - these are freestanding cabinets that perch on the floor. These cabinets come in different shapes and sizes. They are adjustable as they can be placed anywhere in the bathroom.
Closet cabinets are floor-to-ceiling units with doors and have the aspect of built-in furniture. They are great for hiding washer/dryer units or water heaters or as storage for linens.
Wall cabinets are space-saving cabinets as they are hung on the wall, normally over a bathroom fixture. This type of cabinet includes medicine cabinets and open-shelved cabinets. These cabinets are installed to make things available within reach.
After deciding on the type and/or style, consider installation. Not all cabinets, such as base cabinets, may be placed anywhere in the bathroom space. You will need Bathroom Remodel Buffalo's professionals and skilled workers in installing wall and closet cabinets. Bathroom Cabinets Buffalo guarantees to firmly and securely attached these cabinets to the wall's studs.