BATHROOM FLOORING BUFFALO
Are you looking for the perfect flooring for the Bathroom Remodel Buffalo? You have come to the right place. Bathroom Flooring Buffalo offers the best selections for a sturdy, low-maintenance floor that is guaranteed waterproof. And these options include core vinyl, ceramic tile, and porcelain. And do not forget the water-resistant laminate. These waterproof bathroom floors are easy and quick to clean. They also come in different styles, from stone look to wood look and a lot more. We guarantee you will find one that matches your specifications and preference.
Waterproof Bathroom Flooring Options
100% Waterproof Vinyl Floors - They come in two types: Wood plastic composite or WPC, which is made from plastic and wood floor mixture. Stone plastic composite or SPC vinyl which is composed of plastic and stone. These two types of waterproof vinyl flooring are high-end flooring that has become popular among interior designers. Because of the innovative layered design, it makes WPC and SPC vinyl flooring waterproof. It is composed of the following four layers:
Wear Layer is the surface we walk on and the first shield for the flooring. Wear Layer defends flooring from wear and tear, does not retain allergens, excellent stain resistance, and is easy to maintain.

Printed Vinyl Layer has some of the best material for copying natural textures, from wood-look to stone-look. Because this flooring offers faithful reproduction, anyone who sees it will think it is the genuine material. Printed Vinyl Layer is durable and resilient and can resist dents and chips.

The waterproof core is the third layer. Acting as the center in WPC vinyl, this will not absorb liquid. Expect no mildew, no warping, and no swelling from this material. For SPC vinyl, this layer is thinner and a lot denser, making it durable and rigid.

The backing layer is the final layer. It is connected to the subfloor and smoothes out any defect in the surface, hence, saving on repairs. With a backing layer, it not only lowers installation time and cost, but it also keeps you from buying a separate underlayment. Bathroom Flooring Buffalo guarantees we only provide 100% waterproof vinyl floors.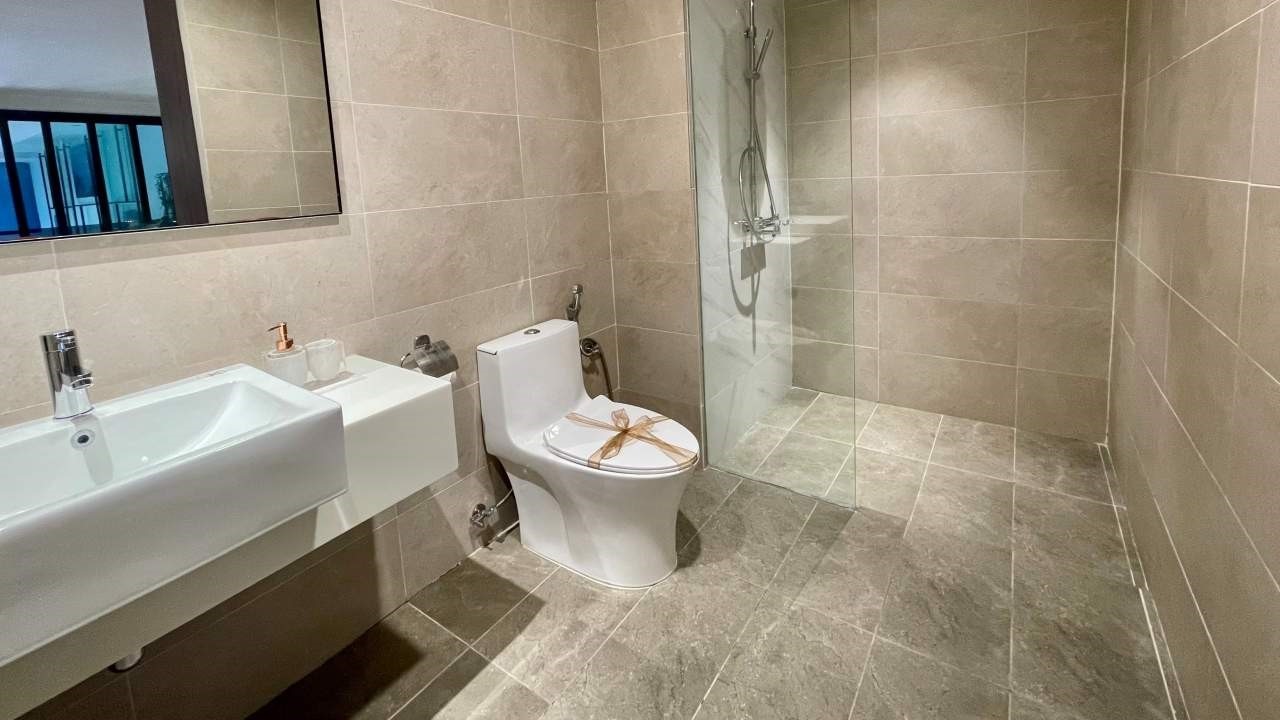 Tiles for Bathroom
Tile has been in the number one position in bathroom flooring top choices for years. These reliable tiles for the bathroom flooring options have a lot to give. They are durable and versatile as they come in different colors and shapes. Choose from natural wood or stone texture to turquoise tile cut into hexagons. Because tiles are customizable, you can have the design you want when revamping your bathroom floor or walls with tile.
Types of Tile Flooring
Porcelain and Ceramic Planks are like waterproof vinyl. This flooring can imitate wood and stone finish. For a more realistic design, choose plank shapes for wood-look porcelain flooring.

Porcelain and Ceramic Tiles are a more ordinary shape for porcelain and ceramic flooring. These tiles are perfect for stone-look floors, and when you opt for larger size floor tiles, they can make the smallest space feels spacious.

Ultra-Thin Gauged Floor Tiles, on the other hand, tend to come in huge panels or slabs, making this flooring a bit tricky to install. But because these tiles for the bathroom are light, the shipping cost of thin gauged flooring is cheaper, making it a cost-effective solution.
Bathroom Floor Tiles
Both porcelain and ceramic tiles are molded from a combination of water and clay minerals. Porcelain is created with dense minerals like quartz, feldspar, and kaolin. While ceramic clay contains less kaolin and is less dense. Due to the formulation differences between porcelain and ceramic tiles, the colors of the body differ. Some of the bathroom floor tile's body or base options are red body, through-body, double-loaded, and color body.
Tile Flooring Pros
Bathroom Floor Tiles can imitate natural materials, or be made into cutting-edge shapes, and guaranteed to last for years, whatever you pick.

They are ideal for high-traffic spaces like the bathroom. Tile floors will not peel up, scuff, or wear down.

They are easy to clean. You only need a broom and mop to polish tile floors.
Tile Flooring Cons
Bathroom Floor Tiles can be rough on your joints if you are standing for a long period of time. And it will not help if you have a less than average subfloor.

Considered as cold on the feet, these tiles for the bathroom are not inviting. Fortunately, our experts can find some solutions to this issue.

Because these tiles for flooring are hard to install, it will be the best option to hire a professional from our team to cut and lay these tiles for the bathroom.
If you are searching for Bathroom Layout And Design Buffalo that are high quality, low maintenance, and attractive, then Bathroom Flooring Buffalo is the right place. We have a wide variety of vinyl and tile options that is durable and will provide a waterproof floor.